University of California
UC Davis Plant Pathology
UC Davis Plant Pathology Home Page
Gitta Coaker selected as 2013-2014 Chancellor's Fellow
Associate Professor of Plant Pathology Gitta Coaker has been selected to be a 2013-2014 Chancellor's Fellow and will receive a one-time award of $25,000 toward her research, teaching and service activities by Chancellor Katehi. The Chancellor's Fellows Program was established in 2000 to honor the achievements of outstanding faculty members early in their careers. Congrats Dr. Coaker!
More information here


Laboratory Hazard Assessment Tool
Deadline: January 10th 2014

The new Laboratory Hazard Assessment Tool (LHAT) has been created as part of the University of California's commitment to continuing a culture of safety. LHAT is a web-based system intended to identify and communicate hazards present in a laboratory or research area. Once the hazards are identified, staff can take appropriate Personal Protective Equipment (PPE) training and print a voucher that can be exchanged for free PPE at the UC Davis Distribution Event in February 2014. LHAT will be used by all academic appointees, staff, students, and visitors to prevent workplace illnesses and injuries.
As a Principal Investigator (PI) or Laboratory/Shop Supervisor, LHAT allows you to:
Identify or add laboratory workers into your lab group
Determine hazards that are present in the laboratory through guided questions
Communicate laboratory hazards to personnel through the LHAT
Identify the proper PPE to be used based on the hazard assessment
As Laboratory Personnel, LHAT allows you to:
Identify with a lab group
View potential hazards present in the laboratory through the assessment
Receive a list of proper PPE to be used in your laboratory setting
Receive training and demonstrate understanding of the training on the selected PPE for your laboratory
Earn voucher for free PPE to be used at the February 2014 Distribution Event
College Celebration
Janet Brown-Simmons, Neal Van Alfen, and Jim MacDonald have all three been awarded the recipient of the Award of Distinction by our college. Congrats!!! More info below:
Reposted from the UC Davis College of Agricultural and Environmental Sciences website
On Friday, October 11, 2013 the College of Agricultural and Environmental Sciences will bestow the Awards of Distinction at its 25th annual College Celebration. The event is held each year at harvest time to celebrate the advancement and accomplishments of our college and its impact on agriculture and the environment.
The Award of Distinction is the highest recognition presented by the college to individuals whose contributions and achievements enrich the image and reputation of the college and enhance its ability to provide public service.
Treat yourself to a delightful outing with delicious hors d'oeuvres and excellent wines. The evening culminates with a farmers market where attendees dismantle the "welcome display" and take home a bag packed full of California's freshest produce and grains.
Check out some photos from last year's College Celebration!
Recipients
Alumni: Will Crites
Alumni: Glenda Humiston
Friend: Robert Curtis
Staff: Janet Brown Simmons
Faculty: Kay Dewey
College Leaders awardees: Neal Van Alfen and James MacDonald
Past Recipients
Registration
Registration will open in early September 2013.
For more information, please contact Carrie Cloud at (530) 204-7500 or crcloud@ucdavis.edu.
Schedule
5:30pm — Award of Distinction Ceremony
6:30-8:00pm — Reception and farmers market
Location
Attendee Information
Information on hotels, shuttles, restaurants, airports and more, coming soon.
Questions?
Carrie Cloud (530) 204-7500 (cell) crcloud@ucdavis.edu
Crop rotation with nematode-resistant wheat can protect tomatoes
Reposted from "Plant Science for a Better World"
In a study published in Crop Science, scientists describe a nematode-resistant wheat. But while the wheat carries the resistance to the pest, the benefits are actually seen in the crop that is grown after it.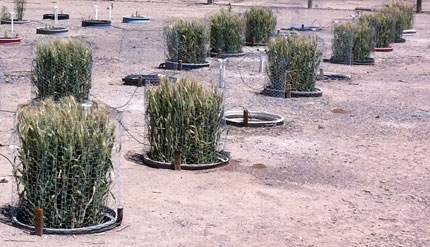 Wheat microplots used in the study. Photo courtesy of Valerie Williamson.



Root-knot nematodes cause crop losses around the world, and they can be difficult to control. In order to reproduce, nematodes need to infect a living plant root. Once they are present in soil, they can survive winter in a fallow field and infect plants during the next growing season. Trap crops – unsuitable hosts that "trick" the nematodes into starting their life cycle but then prevent them from reproducing – are often a better option than leaving the field fallow.
"Once nematodes commit to being a parasite, they have to complete their life cycle," explains Valerie Williamson, lead author of the study and professor at University of California – Davis. "If they don't reproduce, the population dies out."
Trap crops can reduce the number of parasites in the soil and lessen the effects of the pests on the next crop in the rotation. But crops resistant to nematodes can be hard to find due to the pest's wide range of hosts, and trap crops are often plants that are less valuable to farmers. In the present study, researchers found a resistant strain of wheat that can reduce nematode numbers in soil and protect the next rotation of tomato plants.
"What's nice about this finding is that wheat is what farmers often use as a rotation crop in California," says Williamson.
The researchers were surprised to find the resistant wheat. They had tried a number of different rotation crops before turning to wheat. Wheat breeder and senior co-author Jorge Dubcovsky then gave Williamson a strain of wheat called Lassik. Lassik is similar to wheat that is commonly grown, but it has a slight difference. A small segment of genes from another wheat strain relocated, through breeding, into Lassik.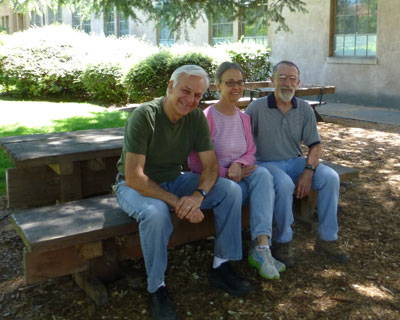 Co-authors, left to right Jorge Dubcovsky, Valerie Williamson, and Howard Ferris. Photo courtesy of Valerie Williamson.
























This relocated segment has no effect on yield or behavior of the crop, but Williamson and her co-authors found that it did have a benefit – it made the wheat resistant to nematodes. "Dubcovsky gave us this strain because it had other resistance genes in it," says Williamson. "It turned out, to our surprise, that it also had nematode resistance."
Once they realized that the Lassik wheat was more resistant to nematodes than the wheat normally grown, the research team validated the source of the resistance by comparing pairs of strains with and without the relocated segment. Then to determine if rotating the resistant wheat with tomato plants would help protect the tomatoes, the authors grew Lassik wheat and used some of the soil to plant tomato seedlings. The wheat had the effect they were hoping for – the tomatoes grown in soil from the resistant wheat plots were less damaged by nematodes.
"If farmers use a wheat that does not have the resistant genes, more nematodes survive, and they'll be there when they plant tomatoes," explains Williamson. "But if they plant the resistant wheat, there won't be as many nematodes in the soil." Dubcovsky noted that the last three bread wheat varieties released by the University of California Wheat breeding program and the USDA-supported Triticeae-CAP project all carry this resistance gene and are readily available to growers.
The results from the study offer a promising option for reducing nematode damage. The next step is to verify the findings on a larger scale. Williamson and her team grew plants both in greenhouses and in small microplots. They are now anticipating that agronomists will try the rotation on a field scale.
"We wanted to get the results out there so that people who work in the field, farm advisers for example, can see if it works in practice as well as it did in a controlled experiment."
View the abstract at: http://dx.doi.org/doi:10.2135/cropsci2012.12.0681

Congratulations to the Gilbertson lab, this year's bocce ball champs!!!

Falk Lab Research Posted on "Top Research Published in Virology" Blog

Dr. Raj Nandety, first author (left), and Professor Bryce Falk, corresponding author (right)
Department of Plant Pathology, University of California, Davis, USA
About the research
Small RNA populations for two unrelated viruses exhibit different biases in strand polarity and proximity to terminal sequences in the insect host Homalodisca vitripennis
Virology, Volume 442, Issue 1, Pages xx
Raja Sekhar Nandety, Viacheslav Y. Fofanov, Heather Koshinsky, Drake C. Stenger, Bryce W. Falk
Image from Top Research Published in Virology. See the full article here.
PLP Department Displays Samples of Pathogens for Public Viewing on Picnic Day
By Suzann Muy

UC Davis celebrated its 99th annual Picnic Day a month ago on Saturday, April 20th. Families, friends, students, and visitors in the Davis community gathered to enjoy a day of fun activities and events and to learn about the UC Davis departments and campus culture. A little over 1,000 people also came to explore the world of plant pathology in Hutchison Hall.

The Department of Plant Pathology held an exhibit where the public could learn and ask questions about plant pathogens and the diseases they cause. Additionally, specimens could be submitted for diagnosis. Kari Arnold, a Ph.D. student in Plant Pathology, and her colleagues assembled a display of plant samples with symptoms of diseases commonly affecting plants in the Davis area. This included peach leaf curl, stripe rust on blue grass, black spot on roses and fig mosaic virus. Crown gall was this year's mystery disease. Arnold explains that this event helps bridge the gap between "field and fork" by helping people to understand how pathogens affect crops and the food we eat, not just trees and ornamental plants. Visitors were offered a free strawberry plant donated by Lassen Canyon Nursery.

Another exhibit at Picnic Day allowed guests to perform a strawberry DNA extraction with Linda Curro, who is the Education Coordinator for the outreach program, Partnership for Plant Genomics Education (PPGE), in the Plant Pathology department.
IGERT Video Competition: We Won!
Congratulations! Mitch, Hyrum and Elenor's project's video submission to the
2013 IGERT Video and Poster Competition has been selected as one of 25 winning submissions!
This year's competition included 124 submissions from 119 IGERT programs and 249 Ph.D. students nationally. The online video competition on
http://www.igert.org, has received over 16,500 "Likes" on Fcebook and over 39,000 unique visitors from over 153 countries. Additionally, news sites such as Scientific American, Nature, Red Orbit, and Yahoo have featured the competition.
Mitch, Hyrum and Elenor were invited to the National Science Foundation Headquarters, in Arlington, Virginia, on June 11, 2013 to be recognized in an all-day awards ceremony, video and poster session, and series of discussions about career opportunities for IGERT graduates. The morning portion of the event will include IGERT Alumni Panelists who will share their career paths and advice for current IGERT trainees. This will be followed by a poster session. Following the poster session, there will be a World Café Roundtable style discussion of career opportunities for trainees in the industry, government, NGO, startup, and academia sectors. The event will conclude with an awards ceremony and an informal networking session into the early evening.
Robin Choudhury Receives Multiple Awards
Plant pathology graduate student Robin Choudhury recently received The Robert W. Fulton Student Travel Award and The Kyung Soo Kim Student Travel Award from the American Phytopathological Society. He will use the awards to help support his travel to the APS Annual Meeting in Austin, TX this summer. At the meeting, he will present his modeling work on maize streak virus, conducted under the guidance of major professor Neil McRoberts. Congratulations Robin!
Tom Gordon awarded Academic Senate 2013 Distinguished Teaching Award for Undergraduate Teaching
We are pleased to announce that Professor Tom Gordon, Chair of Plant Pathology, has been awarded the Academic Senate 2013 Distinguished Teaching Award for Undergraduate Teaching. This award is one of the most prestigious granted on the UC Davis campus and recognizes consistent outstanding teaching and commitment to student success. This is a great and well-deserved honor. Congratulations Tom!
An award ceremony will be held in honor of this year's Distinguished Teaching Award recipients on 14 May, 2013 at the Arc Ballroom, in conjunction with other Senate and Federation awards. The Program begins at 5:15pm. Academic Awards Invitation 3may2013bm">Click here for more information and here to RSVP.
Stephen Bolus awarded 3-year NSF fellowship
Congratulations to Stephen Bolus who recently was awarded a 3-year NSF fellowship to support his graduate studies in plant pathology. This year there were over 12,000 applicants (2000 Fellowship Offers and 1809 Honorable Mentions) this year. He joins a group of 35+ new 2013-14 UCD fellows and over 100 continuing fellows here on campus. Stephen is working under the guidance of Dr. Ioannis Stergiopoulos.
Graduate Students Diagnose Sick Plants as a Learning and Teaching Tool
April 16, 2013- Some people have a natural "green thumb" to take care of plants, but the lack of it doesn't stop anyone from growing their own garden. All plant growers must give attention and care to their plants, especially when they are sick. Like humans, plants are affected by pathogens too, so as a solution Davis residents can ask the UC Davis Plant Disease Clinic (PDC).
Run by the Chair, Allison Ferry, and Co-Chair, Cassandra Swett, PDC is a non-profit, student-run organization in the Department of Plant Pathology to help the community by diagnosing various sick plants at no cost. PDC has been running for about six years, and Ferry, who is a fourth-year Ph.D. student, has been in charge of PDC for two years now; she acts as the primary diagnostician. She, along with about 15 other graduate students, uses PDC to enhance her learning and progress in her research; it is also a teaching tool to educate the public about plant diseases.
Every year, PDC holds two events in the fall and spring quarters at the Arboretum Teaching Nursery's Plant Sales event. People can bring in a picture of their plants or part of the plant that show signs of a pathogen. The clinic often gives a diagnosis and recommendations for disease control on the spot but may also do further laboratory testing if needed. The most common plant samples people bring in are ornamental plants (home or outdoor), such as trees or shrubs, but they can diagnose sick vegetables and crops too.
Once the sample has been analyzed, PDC will contact the person by phone or email and make recommendations such as using fertilizers or fungicides, but they try to recommend cultural controls such as pruning or other environmentally friendly treatments, whenever possible. Their next upcoming event is on Saturday, April 28, at the Arboretum Teaching Nursery. This is a chance for the public to purchase plants and talk to the PDC members about any their sick plants. If you wish to consult with them about a plant, you can also contact them by phone or email: (530) 752-3831 or pdc@ucdavis.edu. (See website for more information: http//:pdc.ucdavis.edu)
Article by Suzann Muy
+++
December 13th, 2012. Two CA&ES plant scientists have received honors for the humanitarian impact of their rice research by The Tech Museum in San Jose. David Mackill, an associate geneticist in the Department of Plant Sciences, and Pam Ronald, professor in the Department of Plant Pathology, were named laureates of The Tech Awards 2012. They are two of 12 people from around the world celebrated by the museum this year for using technology to benefit humanity and spark global change.
Nearly half of the world's seven billion people eat rice every day. About 50 million acres of rice is grown in flood-prone regions of the world, and rice plants die if they're completely submerged for more than three days. Mackill and Ronald helped develop a submergence-tolerant variety of rice that produces yields up to five times greater than conventional varieties, improving life for rice growers around the world.
Mackill and Ronald were honored at an event at the Santa Clara Convention Center in November, along with Ronald's former postdoctoral fellow Kenong Xu—who contributed to the research and development of submergence-tolerant rice variety "Sub 1 rice."
David Mackill (530) 752-4940 djmackill@ucdavis.edu
Pam Ronald (530) 752-1654 pcronald@ucdavis.edu
+++
December 13th, 2012. Plant pathology Professor Richard Bostock has been elected as a fellow of the American Association for the Advancement of Science, one of 17 faculty members from UC Davis to receive the honor this year. Bostock was recognized for his distinguished contributions to basic research in plant-microbe interactions and exemplary leadership in the National Plant Diagnostic Network, a surveillance and diagnostic program designed to protect plants against serious pests and diseases that could be introduced accidentally or through bioterrorism. His research focuses on fungal diseases of orchard crops and on root- and crown-rot diseases caused by the destructive Phytophthora species, using various research plants including tomato, Arabidopsis, peach, walnut and rhododendron.
Bostock is among 702 new fellows, honored for their scientifically or socially distinguished efforts to advance science or its applications. Bostock and other new fellows will be formally recognized in February during the association's annual meeting in Boston.
Spotlight
Professor Douglas Gubler's thirty years at UC Davis have saved millions of dollars in fungicide applications. His research in fungal biology disease epidemiology and extension with California growers has lead to the implementation of cultural practices—such as pulling leaves from the fruit zone on grapevines—that reduced growers' reliance on fungicide sprays to prevent fungal diseases from destroying their crops and double pruning to escape grapevine trunk diseases.